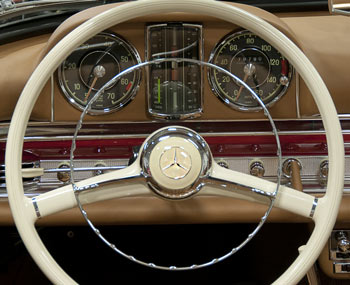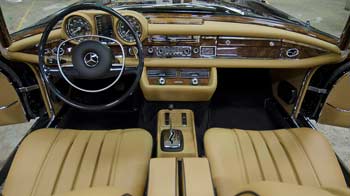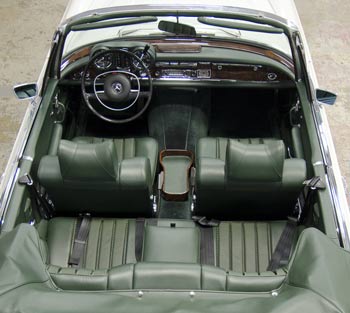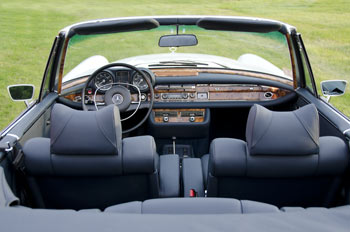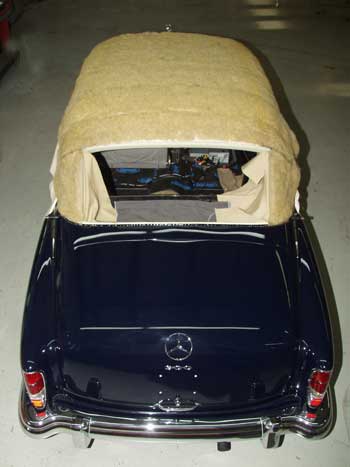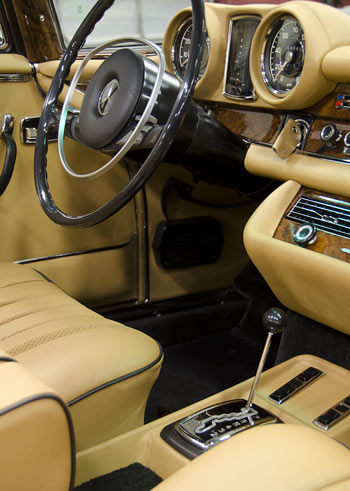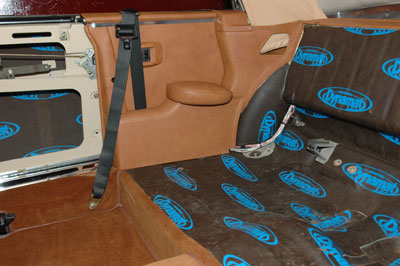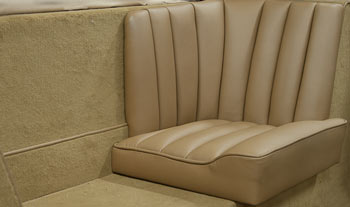 Mercedes-Benz Upholstery & Interior Repair and Restoration
Here at Oldtimer Restoration Center we think the definition of luxury is being surrounded by fine leather and beautiful wood trim in a vintage Mercedes-Benz.
The early Mercedes-Benz interiors were largely hand assembled by old world craftsmen, with great attention to detail. We honor that tradition by meticulously restoring interior wood, leather and cloth surfaces using the finest authentic materials available. Here's how we do it;
Upholstery
Seats are striped down to bare-metal frames, broken or weak springs are replaced and metal frames cleaned and refinished. New authentic seat pads are installed when available or built from scratch when needed. Although seat pads are not visible when covered by upholstery, they are an integral part of the look, feel and comfort of the finished upholstery.
All interior door and kick panels are stripped to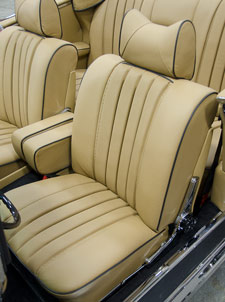 bare backing boards. Every layer of leather, padding and backing are photographed and examined to determine how the original trimmers built the panels. We repair or replace backing boards and supports as needed, then repad using authentic felts and carded wool stuffing. Using original stitching techniques we recover surfaces using original style vegetable tanned leather or original stripped or solid velour upholstery cloth.
Many of our client's request custom leather interiors–see the beautiful tan upholstery with contrasting black piping. We approach these projects with the same passion for excellence as all our restorations.
Wood
Restoration, veneering and repair of vintage Mercedes-Benz woodwork is a highly specialized process requiring the talents of highly skilled craftsmen. Veneering the compound curves of dashboards requires special forming and molding presses, and proper staining to produce a uniform color throughout all the pieces is an art. Applying the protective epoxy resin finish and then buffing to a high gloss, completes the process like only a specialist can perform. Over time wood trim can become warped, cracked, and faded. Once we have refitted the bare wood pieces to insure a proper fit, we outsource all our wood refinishing to specialists with many years of experience, and the results are nothing less than spectacular.

Convertible Tops
Although classic Mercedes-Benz convertibles look best with the top down, they are very much four season, all weather machines. Over time the plastic rear windows in original Mercedes-Benz convertible tops can become dry cracked, yellowed, and scratched, making them difficult to see through. Fabric can also dry out or become frayed, and the same can be said for the rubber weather seals. Misuse or damage can cause the frame to lose shape, which in turn can damage other parts of the vehicle. When restoring a convertible top at Oldtimer Restoration Center, 100% of the material is removed from the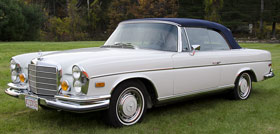 metal frame. The frame is cleaned, lubricated, and checked for proper operation and fitment before being recovered. Once the frame has been gone through and works correctly, we use genuine Mercedes-Benz tops and materials to insure the correct look and feel of the original. Mercedes-Benz cabriolets use a multilayer padded top, the restoration is a complex and time consuming process which involves a range of materials and techniques. Roadsters have a less complex top, but still require a great deal of time and care to guarantee proper operation and fitment. No matter what the vehicle, a convertible top restored by Oldtimer Restoration Center will be easy to operate, quiet and dry on the inside, and gorgeous from the outside.
For sedans or hard tops, the same care and attention to detail is applied to the headliner. These are just as susceptible to staining and wear as a convertible top, and require a great deal of skill to clean or replace. We use only genuine Mercedes-Benz materials when restoring a headliner, and what a difference it makes. Having a clean, bright headliner helps to bring sunlight into the cabin, and can make the driving experience much more pleasurable.
Carpet
Carpets and floor mats are an area of heavy traffic in any vehicle. The sole of your shoe is designed to grip the surface you're walking on, which means it holds on to dirt, liquids, chemicals, and everything in between. These are then deposited on the floor of your vehicle, which can make your car appear permanently dirty.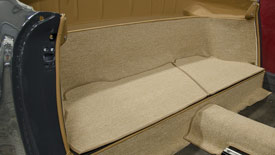 No matter how clean your shoes, sunshine and cold can dull the fabric of the carpets, and cause cracking of the carpet backing. At Oldtimer Restoration Center, we take great care in cleaning original carpets and bringing them back to life. If the customer or car requires new carpets, the old material is removed, and all glue stripped from the surface. A check of the original insulation below the carpet is performed, and upgraded if the customer wishes (see below). This is also a good time to check the bare metal floors for rust or rot. Once this has been completed, we use original Mercedes-Benz carpets and materials to refresh and renew the interior. Mercedes-Benz interiors were available in a wide variety of color combinations, and at Oldtimer Restoration Center we have the ability to faithfully recreate any combination the customer desires.
Sound Proofing
Modern sound-proofing and insulation materials hidden under carpet, behind door panels, headliner and trunk greatly improve the sound system while reducing road and engine noise. They also help keep heat from the drive train and exhaust system out of the cabin, making a cross county cruise or stop and go traffic a more pleasurable experience. Although not part of an authentic restoration, we recommend soundproofing as a way to improve the driving experience of any vintage Mercedes-Benz.