Power Steering
Dual-Zone AC
Electronic Fuel Injection
Electronic Ignition
Generator Conversion
Modern Stereo Systems
The joy of vintage motoring is enhanced by our most popular modification, the modern stereo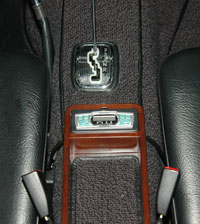 system. Each system is tailored to meet the clients needs while maintaining the cars originality. In most cases the cars original radio remains in the dashboard.

Pictured here is a typical 280 SL installation consisting of an AM-FM 10 disk-250 watt stereo system. The original wood console ashtray space has been replaced by a small radio-CD controller, wired to components hidden throughout the car. Amplifiers and other electronics are concealed in an insulated compartment under the rear deck. The 10-disk CD changer is mounted in the trunk. Speakers are located up front behind custom kick panels.

Installation in larger cars allows for additional speakers mounted in sound insulated enclosures under the rear seats.