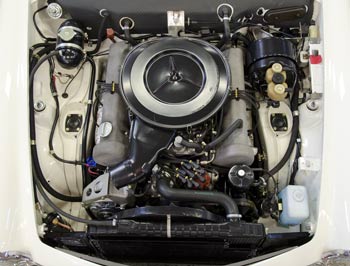 Mercedes-Benz 280 SL 560 V8 Custom Build
This 1969 Mercedes-Benz 280 SL began as one of the 8,047 ordinary 280 SL roadsters produced that year. It spent most of its pampered life with a 170 hp, 2.8 liter inline 6, until we transformed it with a 268 horsepower, 5.6 liter V-8 from a 1991 560 SEL.
The build was commissioned by one of our regular clients who dreamed of a 280 SL with horsepower and torque to spare. He wanted to build a 280 SL with the same design philosophy as the 300 SEL 6.3, the original "sleeper". Besides the obvious engineering hurdle of fitting a V-8 with twice the displacement of the standard six between the stock frame rails, retaining all the ancillary components was a necessity. Maintaining a factory looking engine bay, and using as many Mercedes-Benz components as possible was the real challenge. This included the retention of air conditioning, power brakes, power steering, plus upgrades like cruise control, dual exhaust, larger radiator, and fuel injection control modules.
SPECIFICATIONS

1969 280SL 5.6 V8
268 HP @ 5000 RPM
317 lb-ft @ 3750 RPM
Curb weight - 3109 lbs
F/R Weight distribution-54/46
RPM @ 60mph – 2250

Stock 1969 280SL
170 HP @ 5750 rpm
180 lb-ft @4500 rpm
Curb Weight - 3092 lbs
F/R Weight distribution-56/44
RPM @ 60mph - 3100
Although a standard 280 SL is a joy to drive, if you have ever driven one on the highway you know that at 65mph the engine is turning at 3500 rpm. The 2.8 liter straight six is designed to run at autobahn speeds without fault, but it's loud and tiresome on a long trip. Not so with the 5.6 liter V-8, which purrs at 2250 rpm at 65mph.
Power is delivered through a modern Mercedes 4-speed automatic transmission with 1st gear start, through a custom driveshaft, down to a Mercedes 6.3 rear axle. This rear axle has a limited slip differential and a different internal design than a 280 SL, to better handle the 317lb-ft of torque. It is also equipped with anti-dive links, which prevent the nose of the car from "diving" under heavy braking, and keeping the rear end stable. Despite the rear end gearing going from a 3.69 ratio to 2.82, the added torque and first gear start make stop light acceleration a smoky affair.
The mechanical fuel injection system of the standard 5.6 liter was put aside, and in its place is a modified 1971 Mercedes-Benz intake manifold, plenum, and electronic fuel injection system. Fuel and spark management are controlled by a state of the art, laptop programmable fuel injection system. Using this modern technology, the V-8 now produces more power and torque than a standard 5.6, and due to the light weight of the car, it gets better fuel economy than the original engine in the same car, and better economy than any factory Mercedes-Benz equipped with a 5.6.
Custom work like this takes time for design, fabrication, miles of road testing and fine tuning of engine and suspension. After a lengthy build, our client promptly drove their hot-rod 280 SL roadster 1,700 miles to the 50th anniversary celebration of the "Pagoda" on September 15, 2013 in Williamsburg, Virginia. Their only complaint was a personal dislike for the Blaupunkt radio!